Coronavirus Information
Until further notice, the University of Arizona, in accordance with the guidelines recommended by the Centers for Disease Control and Prevention, encourages all employees to work remotely. Our office is closed to the public, but all staff will be holding virtual office time from 8am- 5pm, Monday through Friday. Please allow up to 24 hours response time. Faculty and Adjuncts will respond as their schedules permit.  Please refer to our list of contacts
Get COVID-19 updates and information for the University of Arizona community.
Developing Leaders, Supporting Women, Expanding Education: Alumna Melody S. Robidoux Receives Honorary Degree
March 10, 2021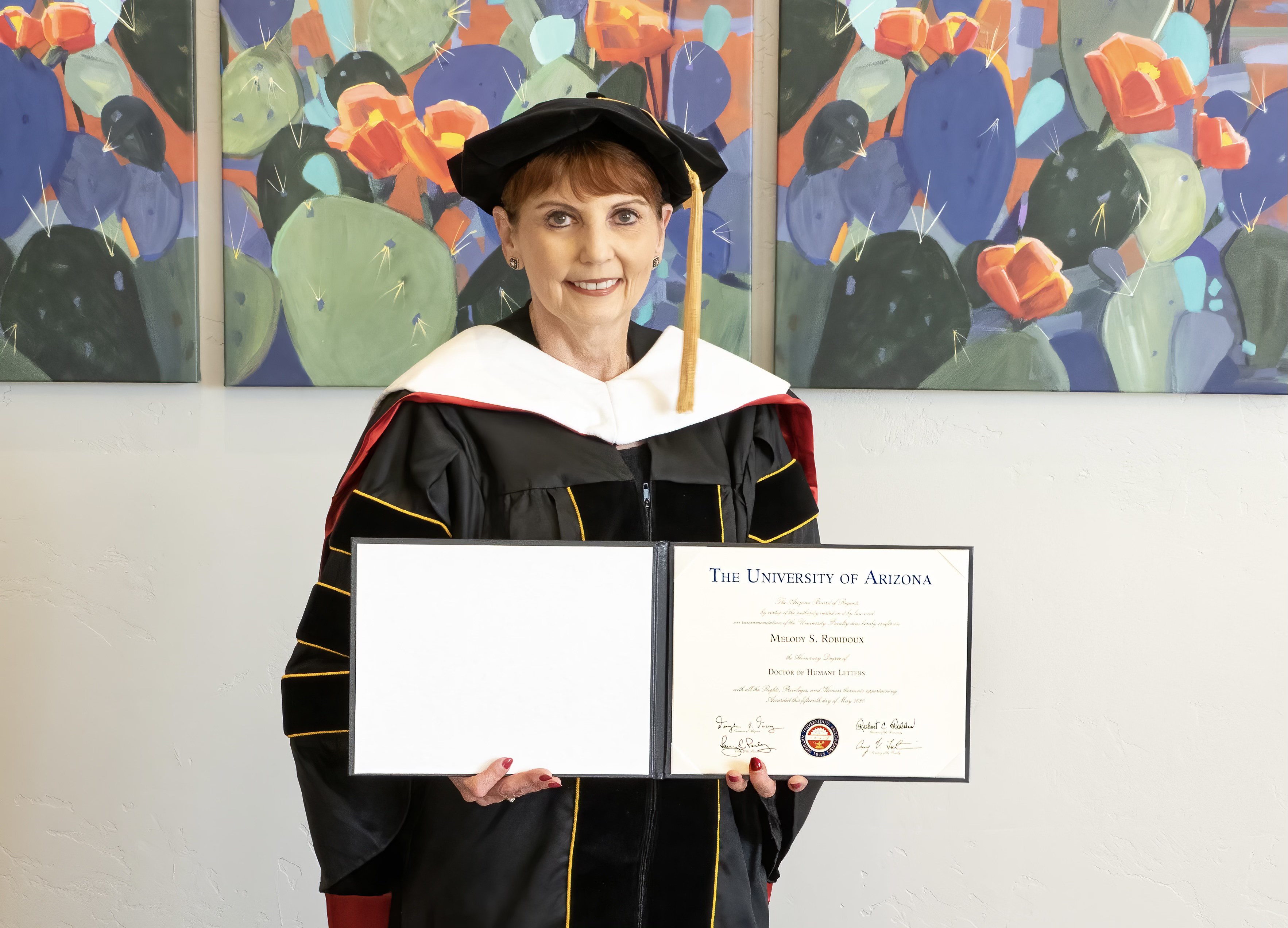 On Feb. 25, 2021, Melody S. Robidoux received an honorary Doctor of Humane Letters degree from the University of Arizona and the College of Social and Behavioral Sciences.
Robidoux, who has a degree in political science and a juris doctorate from UArizona, is a long-time donor to the School of Government and Public Policy, or SGPP. She has helped the school thrive by supporting faculty, student travel, and space renovations. Her latest gift helps the school reward and retain some of its strongest scholars.
Robidoux was co-owner and CEO of the technology company Artisoft. In 1990, Robidoux sold her interests in the company and decided to promote societal change through philanthropy. She founded the Melody S. Robidoux Foundation. In 1992, Robidoux co-founded the Women's Foundation of Southern Arizona to foster equity and opportunity for women and girls. Her foundation also funded Junior State of America's expansion into Arizona, a program that fosters civic engagement for high school students.
"My interest has always been in policy, often directed toward women's rights, social justice and education," Robidoux said. "I am interested in developing people who can speak articulately and understand policy and the law – who want to be leaders."
At the Honorary Degree ceremony, John Paul Jones III, dean of the College of Social and Behavioral Sciences, said to Robidoux: "We are here today to honor you for representing the best that the College of SBS and the School of Government and Public Policy have to offer to this state, this nation, and the world. Many of our alums go on to lead lives as successful entrepreneurs, and there are those graduates who go on to become great civic leaders. But the intersection between those categories is less common."
Jones added, "We congratulate you for your business and civic contributions, and we thank you for your friendship and steadfast commitment to the students and faculty at the University of Arizona, the College of Social and Behavioral Sciences, and especially the School of Government and Public Policy."
In addition to supporting SGPP, Robidoux has contributed to other programs at the University of Arizona, including the arts, study abroad, and legal advocacy education.
University of Arizona President Robert C. Robbins said, "The University of Arizona is built on a belief in the critical importance of learning, inquiry, and service. Melody Robidoux's life story exemplifies these values, and her incredible dedication to the University's mission, and generosity in ensuring that we are able to achieve it, are extraordinary."
"Over the last 10 years or so, it has been my privilege to actively support SBS and SGPP through a variety of projects, scholarships, endowments, underwriting of two Chairs of SGPP and now two SGPP Professorships," Robidoux said. "Higher education for myself and others has been a driving force in my life. As Nelson Mandela said: 'Education is the most powerful weapon which you can use to change the world.' Consequently, I expect to be involved with the University of Arizona for a long time to come."